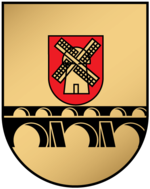 During this project Idamas Ltd has implemented service management system into Pakruojis district municipality, which is recognized and evaluated as the most optimal and the best operating information system for public and electronic services provision. From now on residents of Pakruojis district will be able to obtain information about district services and order them with opportunity to monitor the progress of the service on the website www.pakruojis.lt . Electronic solution will provide a clearer and much easier municipal services reservation process for a resident, because it will not be necessary to arrive at municipality in order to obtain the required service. Pakruojis district employees will save time on serving customers which could be used for higher quality services provision online.
Another important point of this project is to provide as much information as possible about business opportunities in Pakruojis area. Given information will be relevant for beginners entrepreneurs as well as for experienced ones or for people who are planning to start their own business and want to gather knowledge about different trading places, rental objects for business by activity or find a business literature, which they will be able to book online at the local library.
The main tool through which all information will be available - Pakruojo District website. All necessary system updates will be made to ensure the smooth and uninterrupted operations of the district website which use SmartWeb content management system.
Residents of the Pakruojis district will begin to feel the benefits of the technology solutions after project will be implemented and tested.
For more information please contact:
Gražina Steponavičiūtė
Phone : +370 5 2788636