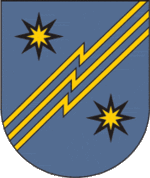 Idamas Ltd along with its business partner Audiotonas Ltd have successfully implemented the Project "Electronic democracy development in the municipality of Elektrenai" (II stage), during which was:
Updated website, which was created with the new, unique design, compatible with newest information technologies.
Installed on Service management system, which is recognized and evaluated as the best performing information system for public and electronic services. From now on, Elektrėnai municipal residents will be able to obtain information about Elektrėnai municipal services, order them and monitor progress of the service, just by registering on the website www.elektrenai.lt. Installing an electronic solution will provide a clearer and much easier order of municipal services for residents, because there is no need to go to the municipality in order to obtain the required service. The employees of municipality of Elektrėnai will save time serving customers in their workplace, so they will be able to devote more time for online service.
Installed meetings management system and ensure its integration with the debate and vote hardware. It now allows websites to broadcast the municipal council meetings, publish their results, adopted decisions, publish the municipal councils adopted and pending legislation.
Developed and adapted to the organization document management system, that will help optimize the work with documents and ensure their tasks control.
Elektrėnai municipality acquired both technical and software will ensure a smooth, continuous, and most importantly safe organization's use of the information.